Extra Brut Blanc De Noirs L'Or d'Eugène
Champagne
Famiglia di Vigneron dal 1750, il Domaine Moussé Fils si trova nel villaggio di Cuisles, in un suolo
particolarmente votato, nella Vallée de la Marne, al vitigno Meunier. Nei vigneti, Cedric Moussé pratica la
viticoltura biologica, utilizzando infusi a base di erbe che agiscono come "vitamine" per le viti, colture di
copertura, zero pesticidi e dosi minime di metalli pesanti come il rame. La nuova cantina, completata nel 2012 è
moderna ed ecosostenibile e qua Cedric Moussé vinifica quasi tutti i suoi vini esclusivamente in vasche d'acciaio, con l'eccezione di una piccola quantità di Meunier destinato al suo Rosé. I suoi Champagne sembranosprigionare con frutti rossi caratteristici del Meunier e una mineralità strutturata e salina.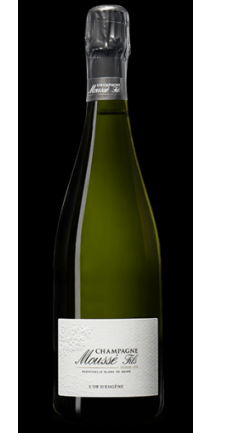 € 50.00
| | |
| --- | --- |
| Produttore | Moussé Fils |
| Denominazione | Champagne |
| Vitigno | 80% Pinot Meunier - 20% Pinot Noir |
| Gradazione | 12,5% Vol. |
| Formato | Standard (0.75 lt) |
Descrizione produttore
You'll find Champagne Moussé Fils in the heart of the Marne River valley in the village of Cuisles where, since 1923, perfecting the art of growing Meunier and bringing it to the peak of its potential has been the guiding principle of everything we do.

Our vineyards are spread out across 4 different villages yet all of them are on the same hillside; an unusual characteristic that is reflected in all of our champagnes.

Our family has been making champagne for 4 generations now and we've been growing vines from as long ago as 1629 so you can understand why we attach so much importance to looking after the environment. We want to ensure that our champagnes reflect all the character and personality of our vineyards and to achieve that we pay the most scrupulous attention to each stage of the wine making to ensure that everything is done as naturally as possible.